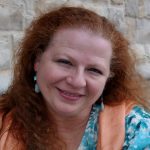 Living Beyond Linear ~ Keisha Clark. Do you find yourself getting really frustrated with the whole "figuring your life out" thing?  Are you exhausting yourself, trying to apply methods to your life that simply DO NOT work for You?  Have you always felt like You are different; that you actually function in a different way than all the methods and the systems say you are supposed to – but you have no idea how to be the different you be?
What if the life that Truly works for You actually can't make sense?  What if there is soooo much more available outside the lines, and beyond the logical explanations – that could truly empower you to be creating, living and loving your life?  ~ Keisha Clark is inviting you to Stop asking your life to make sense and Start Living Beyond Linear!
Keisha is a happily unconventional Empowerment Agent who blends her capacities in the Intuitive and Healing Modalities and Divination Arts, to facilitate her clients and students into greater awareness, clarity and confidence.  She speaks to All of the energies having to do with changing what you desire to change – people, animals, elements, places and things.  Keisha brings her relentless curiosity, her potent kindness and her willingness to put every topic on the table for discussion, and she offers it to you with No judgment and No expectation of you.  She will challenge you to shift your perspectives and shatter your limitations!
Keisha Clark