The Pleasure of Vulnerability ~ Guest Milica Jelenic
July 15, 2019 by *Joy, Vulnerability, Pizza - with Junaline
Did you ever consider that pleasure is possible when you are being vulnerable? Have you ever stepped into the beauty of vulnerability and found immense pleasure? Have you been guarded and never chose vulnerability and wonder how is pleasure even possible? Join Junaline as she explores The Pleasure of Vulnerability with guest Milica Jelenic.
Milica Jelenic host of "The Pleasure Zone" has a BA and works in the Holistic medicine field. Milica is also a Sensual Movement Artist, Sex & Relationship Alchemist, Mitzvah Technique Teacher, Access Bars® Facilitator and Radio Show Host and has facilitated greater ease and health in bodies for over 20 years.
Milica Jelenic is an advocate for possibilities. In her private practice she invites clients to receive who they truly be and to continue to choose more for themselves. Milica knows that there is something greater for all of us on this planet and plays with bodies to awaken greater possibilities to show up. Milica' abilities as an intuitive lend to a session that is personalized for the client. Milica's keen ability to sense where change is possible and to question what is stuck in the target area creates a very dynamic session that promotes choice, possibility and change.
Milica has impacted thousands of individuals both in Canada and abroad with her humor, kindness, gentleness, potency and intensity. Milica's approach is playful, fun and direct. Milica is willing to be whatever energy and space is required for the change you desire.
Milica offers sessions which involve shifting energy through energy work, body manipulation, and verbal processing.
If you are interested in receiving Milica' monthly newsletter about events, classes and information on booking private sessions send and e-mail through her website  https://www.milicajelenic.com/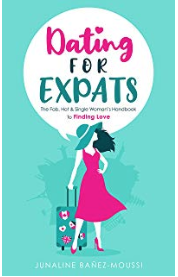 Junaline's Book: Dating for Expats: The Fab, Hot & Single Woman's Handbook to Finding Love
Purchase on Amazon.com   Amazon.co.uk    Amazon.ca
~ More About Joy, Vulnerability, Pizza ~
What if life is like a mélange, a pizza with slices that make up a whole, at times yummy, at times not so, and somewhere in between? Would you be willing to acknowledge what is joyful in your life and to see the beauty in the mundane? To enjoy the sauce, the crust, the cheese and the extra topping?
In this weekly radio show, Junaline will invite you to explore topics that bring joy, and inspiration, that move, empower and be kindness, acknowledge your foibles and follies as humans, in short, what it means to be YOU.
From topics ranging from human relationships, creativity, consciousness and expat life to spirituality, self-development and the seemingly disconnected topic of pizza (and wine, please), join Junaline on the weekly "Joy, Vulnerability, Pizza" radio show with a dash of light, rawness and sense of humour on what is real, true and YOU.
Along with other inspiring real-life heroes and she-roes, and agents of change, you are invited to listen to snippets of life stories, explore choices and possibilities, ask questions, and receive inspiration from everyone and everything.
Junaline Bañez-Moussi
www.junaline.com   lifeinspiredjunaline@gmail.com
FB:  https://www.facebook.com/yourlifeinspired/
To get more of Joy, Vulnerability, Pizza with Junaline, be sure to visit the archives page for replays of all her shows here: https://www.inspiredchoicesnetwork.com/podcast/joy-vulnerability-pizza-with-junaline/