Find Love Amidst Changes In The Dating Culture ~ Guest Maria Hillgardner
August 19, 2019 by Joy, Vulnerability, Pizza - with Junaline
So you find yourself back in the dating scene and you realize, wait, "it has been too long and I now need to learn to use new dating apps"? You realize that dating apps are convenient but doesn't offer nearly as great of an experience as an in-person meet. Everything is convenient, and happens as fast as one swipes, so how do you compete? Or should you?
In this episode of JVP, Junaline and her special guest, Maria Hillgardner will talk about and explore what it takes to find love amidst changes in the dating culture.
Maria Hillgardner is a Breakthrough Coach who specializes in helping professional women effortlessly magnetize their dream partners without wasting time in the clubs or using silly dating techniques all through her signature I.L.A. program where women find love again after being hurt and rejected many times over.
*Special offers for JVP listeners: Book your free 45min Ideal-Love Breakthrough Session at https://HITCoaching.as.me      highimpacttransformation@gmail.com https://www.facebook.com/CoachMariaHillgardner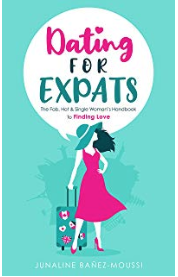 Junaline's Book: Dating for Expats: The Fab, Hot & Single Woman's Handbook to Finding Love
Purchase on Amazon.com   Amazon.co.uk    Amazon.ca