Joy, Vulnerability, Pizza - with Junaline
What if life is like a mélange, a pizza with slices that make up a whole, at times yummy, at times not so, and somewhere in between? Would you be willing to acknowledge what is joyful in your life and to see the beauty in the mundane? To enjoy the sauce, the crust, the cheese and the extra topping?
In this weekly radio show, Junaline will invite you to explore topics that bring joy, and inspiration, that move, empower and be kindness, acknowledge your foibles and follies as humans, in short, what it means to be YOU.
From topics ranging from human relationships, creativity, consciousness and expat life to spirituality, self-development and the seemingly disconnected topic of pizza (and wine, please), join Junaline on the weekly "Joy, Vulnerability, Pizza" radio show with a dash of light, rawness and sense of humour on what is real, true and YOU.
Along with other inspiring real-life heroes and she-roes, and agents of change, you are invited to listen to snippets of life stories, explore choices and possibilities, ask questions, and receive inspiration from everyone and everything.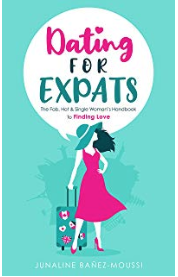 Junaline's Book: Dating for Expats: The Fab, Hot & Single Woman's Handbook to Finding Love  
Purchase on Amazon.com   Amazon.co.uk    Amazon.ca
Read More
Junaline Bañez-Moussi is an international Transformational Coach, a creative, an entrepreneur and a humanitarian. She helps men and women find inspiration and clarity in their lives by empowering them to BE, to choose and create more of the life they love.
Born in the Philippines, raised in Canada, lived and worked in countries as diverse as Mexico, Japan, Oman and now Lebanon, Junaline is your down-to-earth ambassador of what it means to be a true global citizen. She thrives in all kinds of communities, and as a result has enriched her relationship with herself and the world.
Her life journey spanned different cultures, continents and careers –doing what she loves – a dreamer who always lived her dreams out loud. Teaching and doing humanitarian work with children's education in Asia and her world travels have all contributed to her ever-expanding point of view of different peoples, cultures and lifestyles. Her inner self- discovery led her to explore art, dance, meditation, yoga, various personal development, life coaching, energy healing and the tools of Access Consciousness©.
And what else is possible?
Junaline offers life coaching, creative life-changing workshops on movement, creativity and consciousness. She facilitates local and international workshops for change, growth and inspiration. A world traveler, amateur artist and wine lover, she lives her life with infinite possibilities with her husband Roberto in the beautiful small country with a big heart, Lebanon.
lifeinspiredjunaline@gmail.com
---